02/02/2017.
Bloomberg reports: One of the most honest places on the planet is in the grip of a financial crime wave.
In the last month alone, Sweden has opened probes into possible wrongdoing by a billionaire, a former finance minister, the national property board, a former tech CEO and one of his company's directors. The alleged crimes range from insider trading to bribery.
Transparency International last week cited "leading people" losing their "ethical compass" in downgrading Sweden one level in the watchdog's annual ranking of the least-corrupt countries — to No. 4 after Denmark, New Zealand and Finland. The Reputation Institute, a Chicago-based consulting firm, hailed Sweden as the world's "most reputable" country just last summer.
The flurry of investigations "is a wake-up call" for a society that has gotten used to thinking it's squeaky clean, according to Madeleine Leijonhufvud, a criminal law professor at Stockholm University and former chairwoman of the Swedish Anti-Corruption Institute. "We're starting to realize that not everything is OK."
Record High
The number of insider crimes reported in this country of 10 million people soared 53 percent last year to a record 338, while the number of bribery cases jumped 47 percent to 246, a seven-year high, government data show.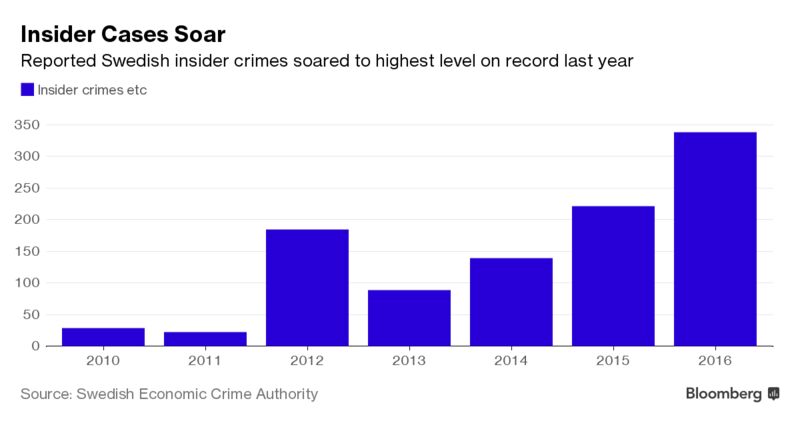 Authorities are cracking down on economic crime, enacting a new law on market abuse, criminalizing more "behaviors" and introducing harsher penalties. Gunilla Sandblom, the Economic Crime Authority's chief prosecutor, said the surge in insider trading is particularly troubling because it can erode confidence in the country's capital markets and deter investment.
"The increase is serious," Sandblom said by phone, attributing the spike in part to better oversight by regulators and an uptick in the number of listings by smaller companies inexperienced in vetting their own procedures. "During raids, we've seen documents containing insider information lying around the photocopier, allowing anyone working there to see and act upon it," she said.
Read full story from Bloomberg >
Leave a Reply